Sebastian from Aurora is presenting his first aluminium track frame called "Australis" which is handmade in Italy.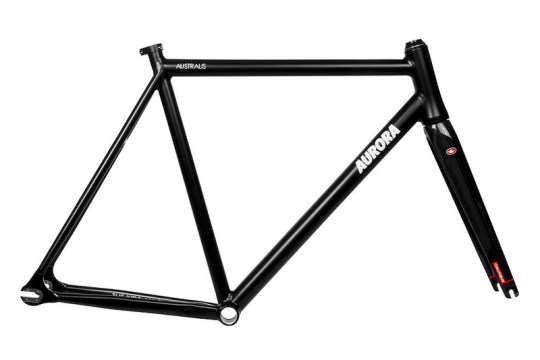 "After riding aluminium frames for many years and more than 1,5 years research, it's finally time to reveal something big – at least for me!
Let me start at the very beginning.
Being a huge fan of old Principia aluminium road and track frames for many years, it was sad to see this company going to change direction in 2004/05. I always wanted to bring back this dedicated craftsmanship, the classic geometry and the artisan quality which made the frames famous. Not that easy, when even most old-established italien cycling companies move their production to low-cost countries and the bicycle becomes a mass-produced item. But there are still many dedicated framebuilders who put their heart and soul in each and every frame they produce, you just have to find them. I was able to find one in Italy, who was able to help me produce the frames I was thinking of.
In times were sloping, whether it is positive or negative, seems to be the only choice and most people think carbon is the one and only material for modern and competitive frames. The AURORA "Australis" is our interpretation of the perfect aluminium frameset, merging a classic geometry with modern details and modern materials.
The product and whole production process mirrors the principles AURORA is based on.
Each frame is perfectly produced by a skilled and experienced framebuilder in Italy and carefully finished in Germany!
I'm really proud to finally bring this project online.
So there it is, the AURORA "Australis"!
A high-performance aluminium Track frameset – Made in Italy!"
More details and special shipping offers in December can be found HERE.