During the "Berliner Fahrradschau" two weeks ago there was a history exhibition from FES (Institut für Forschung und Entwicklung von Sportgeräten) for the first time available to the public.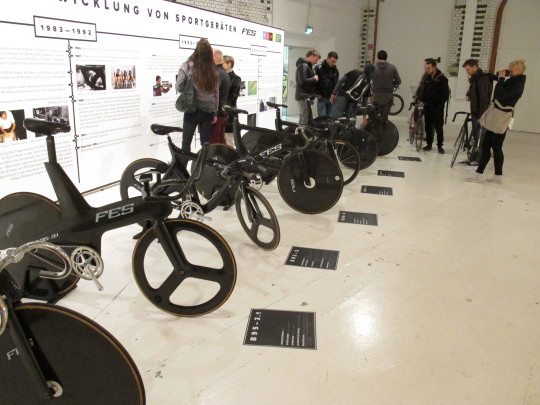 The info on the chainstays is always stating if the bike is made for track (B) or street use (S) and in which year it was made (eg. 87=1987, 95=1995, 10=2010). The last number represents the level of development on all models till 1999, afterwards the number means which size is it (1= smallest available size).
B87:
B92-1 (shortly banned by the UCI after its creation for not having a seattube)
B95-3.1
B92-2: One of the first Street Time Trial bikes made by FES
B95-4 (Better drive side shot can be found HERE)
S95-1
All to prevent the turbulence from chain spinning.
Hydraulic brake system back in the days.
B07-1: Sadly this one wasn't used because the German Track Time Trial team didn't qualify for the Olympics in 2012.
B10-5: The newest creation in a stealth mode look. More information and better detailed pictures can be found HERE.
Pictures were found via Imgur.